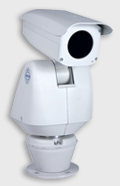 M&I Electric CCTV systems put eyes on equipment without diverting manpower from your operations. CCTV systems can provide oversight of drawworks operation, offer crown view and crane view, and perform BOP monitoring.
M&I's CCTV systems also enhance safety on dangerous operations. Surveillance systems allow operators to know where all the personnel are at all times, even while carrying out complicated processes. Cameras can be used to monitor access to and activity in areas of hazardous activity, even triggering alarms when individuals enter a given area while hazardous work is being performed.

Our CCTV client portfolio is broad, encompassing land rig operators, the New York Department of Transportation, the US Coast Guard, and offshore drilling rig operators. M&I offers systems of all sizes and levels of complexity, ranging from a few cameras at a single site to multi-site monitoring systems with remote capabilities.