M&I Electric offers a wide range of solutions for vessel security, keeping unauthorized individuals from coming aboard as well as granting access to specific areas according to crew positions and roles.  The T-AGM-25 vessel shown below has multiple automation systems ranging from systems that warn personnel not to go outside when the radar systems are switched on, or security systems which monitor sensitive areas and meet DCID 6/9 Compliant – "Physical Security Standards for Sensitive Compartmented Information Facilities" requirements as defined by the Director of Central Intelligence. The system was designed to be simple, maintainable, and easy to operate.
We can provide security systems for vessels of any size, from simple CCTV monitoring to intrusion detection and multi-level call-out systems using land based or cellular based phone systems.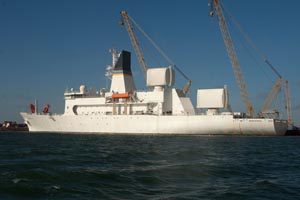 Sometimes the most prolific security risks come internally, and you need to protect your equipment against that. We can also provide similar safety monitoring systems to alert you when somebody has created an unsafe condition.
Our security systems are on vessels like the US Navy T-AGM-25, the NY DOT Staten Island Ferries, the U.S. Coast Guard MACKINAW, and U.S. Coast Guard shore stations. Ask us how we can make your operation safer and more secure.