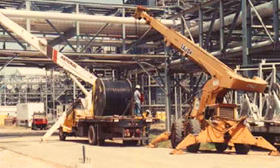 M&I Electric's construction group is comprised of experienced field service engineers, technicians, and electricians with marine and industrial experience. These operate from our headquarters office and factory, which are fully equipped with the production and test equipment necessary to carry out construction in environments as wide ranging as commercial office, offshore drilling platform, and heavy industrial production. The inclusion of construction services in our portfolio of offerings enable us to provide full lifecycle services for the systems we produce, facilitating M&I's Total Systems Responsibility.
Industrial Applications
Industrial construction services include lump sum and time & material contracts, as well as turnarounds, maintenance, and startups. Typical projects range in size from $5,000 to several million dollars.
Offerings Include:
Low and medium voltage controls and distribution
Instrumentation installation and calibration
Complete Raceway systems
Generator controls
DCs and HMI systems
AC and DC variable speed drives
Lighting systems
High-voltage cable installation
Drilling Rigs
Pipelines
Mines
Chemical Plants
Other Process Manufacturing
Marine Applications
The Marine Construction Group has extensive expertise in all aspects of marine construction. Our services and products can be designed and installed to meet or exceed standards set by ABS, USCG, DNV, CE and DOE. Typical projects range in size from $1,000 to $1,000,000 dollars.
Offerings Include:
Complete electrical system rig-ups
Modifications
Upgrades
Startup and testing for vessels
Living quarters
Drilling rigs
Project modules
Professional Affiliations
M&I Electric construction professionals are committed to their industry and ongoing professional development.  We are proud members of:
Independent Electrical Contractors (IEC)
Association of Builders and Contractors (ABC)