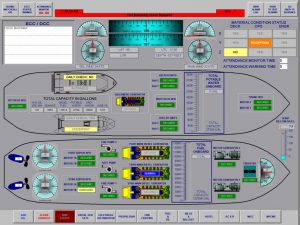 The Machinery Plant Control and Monitoring System we provided for the USCGC MACKINAW (WLBB-30) was a 5,800+ point control and monitoring system which we designed from concept and executed through to completion and support.
Reduction in manning requirements and increased awareness about the operating systems on your vessel or rig mean a significant cost savings. We've been involved in projects for the United States Coast Guard, New York Department of Transportation, Manson Construction, and others. We have the experience required to provide any automation system no matter the size.
When we were asked to design the control system for the flagship Great Lakes Icebreaker USCGC MACKINAW, we took an approach that more information is better. Engineers on board can monitor and trend any monitored point over time and use that information to plan maintenance ahead of time. Our system, coupled with the impressive design of the other systems on the vessel, helped reduce the manning requirements by almost half, freeing up personnel for other crucial missions while allowing the USCGC MACKINAW to carry out its vital duties.
The system we designed for the three new Staten Island Ferries for the NY Dept of Transportation took a very similar approach. We also provided the vessel CCTV system since the NY DOT felt that the Ferries were probable targets for attack. Our system monitors every entry point to the vessel and records the data to a secure facility on board and optionally a shore based station.